12 Feb

NEW – Campanula Ambella® PINK

Give your garden, patio or home a color boost with the brand new Ambella® Pink from Addenda®. This intense pink Campanula immediately provides extra warmth and atmosphere, especially if you combine it with the other Ambella colors. And it is an easy plant that flowers almost all year round. Sunny outlook!

STRONG & REFINED Ambella® Pink is a Campanula. This extremely strong plant originates from the mountains and is loved for its refined "bell flowers", for the fact that it flowers extra long and for its beautiful colors. Ambella® was already available in white, lavender and purple, and now Addenda® comes with a unique innovation: the Ambella® Pink, in a stylish rosette shade.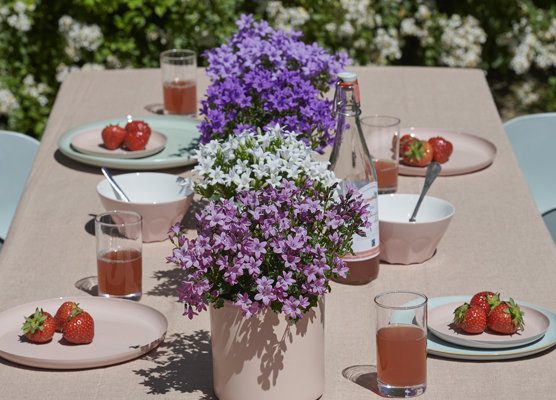 Paradise for bees and butterflies
Do you want a bee and butterfly friendly garden? Make sure to make room for Ambella® Pink. Like all Campanulas, this contains a lot of nectar and bees and butterflies love that. Because the plant blooms from early spring to late autumn, you provide it with food for a long time: good for people and the environment. Just add love A place in half shade, water twice a week, some plant food monthly and of course a little love: Ambella® Pink asks for nothing more. On high summer days it is smart to water every day. And removing overblown flowers is the trick to make Ambella® Pink bloom longer. In winter, the plant takes a break. But as soon as spring arrives, the flower clusters will soon return. Pretty in pink!